Wayne Ursulescu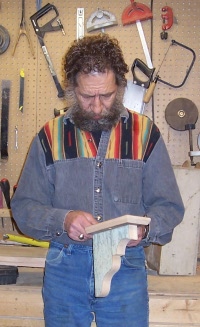 I was born in Limerick Sask., and raised in Regina. I spent a good portion of my childhood visiting my grandparents farm where I learned to love the rural way of life. My grandfather had immigrated from Romania in 1911, and along with his family homesteaded in the Twelve Mile Lake area, south of Limerick. Along the Pole Trail, south through the Cactus Hills, carrying everything they owned, they arrived and settled amongst the burgeoning Romanian community surrounding Twelve Mile Lake. Living in sod huts or caves carved into the hillsides, they broke the land and suffered incredible hardships for their vision of a better life. These were the pioneers to whom we owe so much. Their images haunt me, yet fuel my imagination.
Time spent with my grandfather allowed me to explore many relics from the past. Old plows in the pasture, harness in the barn, the pedal grindstone that sat beside the wooden grainary, or an old tweed hat evoke memories of a time when life was less complicated. And so I choose to collect these quickly disappearing artifacts from the past, not for their monetary value, but to preserve those precious childhood memories.
My love of that bygone era has also carried over to my woodworking. I build from lumber salvaged, with the owners permission, from many of the vacant, turn of the century homesteads that dominate the rural Saskatchewan landscape. Besides the tight grained, superior quality of the wood used, the 70 to 100 year old wood provides a pattern of grain that cannot be duplicated by wood purchased today.
I am comforted by the thought that this wood was handled by those pioneers that I admire so much. To them, I say thank you for the gift of this country, and I salute you. I am also indebted to the present owners of these pioneer homes that have allowed me to salvage this wood and bring it into the new century through the furniture I design and build, thank you. And to my immigrant Romanian grandfather, thank you for the love, patience, and for allowing a mischievous little boy to grow up in your shadow, but mostly, thank you for instilling in me the love of this land that has defined the person that I have become.
In 2009, Wayne Ursulescu passed away. His legacy lives on and his presence can be felt in each building he built at Pure Prairie, and in every piece of wood he shaped.