Rachel Ursulescu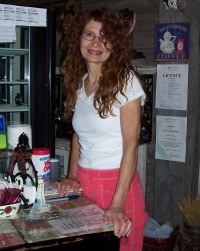 This is is my story.
About 16 years ago, I started dreaming about living in a log house and I would decorate it in my mind. I told Wayne and he started looking in real estate magazines and happened on our place in Dysart. We bought it the day we looked at it.
We commuted to Regina to work, but in the summer we both worked in the yard — no plans. Wayne would create amazing places and I would be thrilled. I love to garden so I dug out sod, dumped topsoil, wheeled dirt and gravel, picked rocks, and planted trees, shrubs and flowers.
I returned to work in the fall and dreamed of more yard changes the next spring.
One of my favourite pastimes has always been to go for coffee and special desserts at coffee houses after work. I began thinking about the neat spaces Wayne had built and would imagine having people, lots of people, come and enjoy our yard, drink coffee and eat neat desserts.
When I told Wayne my dream, he said, "No one will come out here."
"Oh yes they will," I would say, and I knew it would happen.
I began my plan, seeking out equipment, dishes, and furniture and testing special desserts and drinks. I searched for months for the technology I wanted and learned lots. Wayne completed the setting. The winter of 2004 was crazy, re-upholstering chairs, setting up things then moving them. Wayne was exhausted, as he worked the hardest, doing anything and everything.
In 2005 we opened Pure Prairie.

My dream has came true. So many people have come, every year more and more. I keep finding more special desserts and making more special drinks. I serve cheesecakes, baklava, giant cinnamon buns, frozen desserts, iced drinks, hot drinks and maybe lunch. I enjoy talking about and showing people Wayne's creations and having them enjoy the garden.

I enjoy sharing Pure Prairie and having so many people come to enjoy the gift of being in rural Saskatchewan.